well put together, covers false memory syndrome, succinctly, there is more in depth, info out there, but in a nutshell, it was designed to stop people believing us, in the early 90,s as we were really beginning to fight back and break silence…..Sheva
Tell About Abuse
Denials and misinformation continue in mainstream media allowing rapists, pedophiles, organized abuse to continue committing horrific crimes and destroying lives.
Selling newspapers – the "Satanic Panic" headlines
Millions of copies of newspapers were sold in the 1980s and 1990s covering numerous ritual crimes including satanic ritual abuse, the media suddenly reversed the coverage and created the "Satanic ritual abuse myth" – selling many more millions of newspapers. Society at that time did not wish to believe in the horrors of incest, so reports of extreme physical and sexual abuse combined, often with satanic/occult influences became a sensationalist topic in the media.
The backlash – confessions ignored as convictions are overturned, "it's a Myth" headlines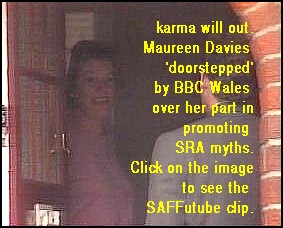 This backlash was based on a highly effective publicity campaign on "false memories" which began when Peter Freyd's daughter Jennifer Freyd accused him of raping her as a child. Jennifer – a highly respected psychologist –…
View original post 1,084 more words